Open-Source kanban. WeKan ® is registered trademark in Finland. Other countries usually honor trademarks of one country.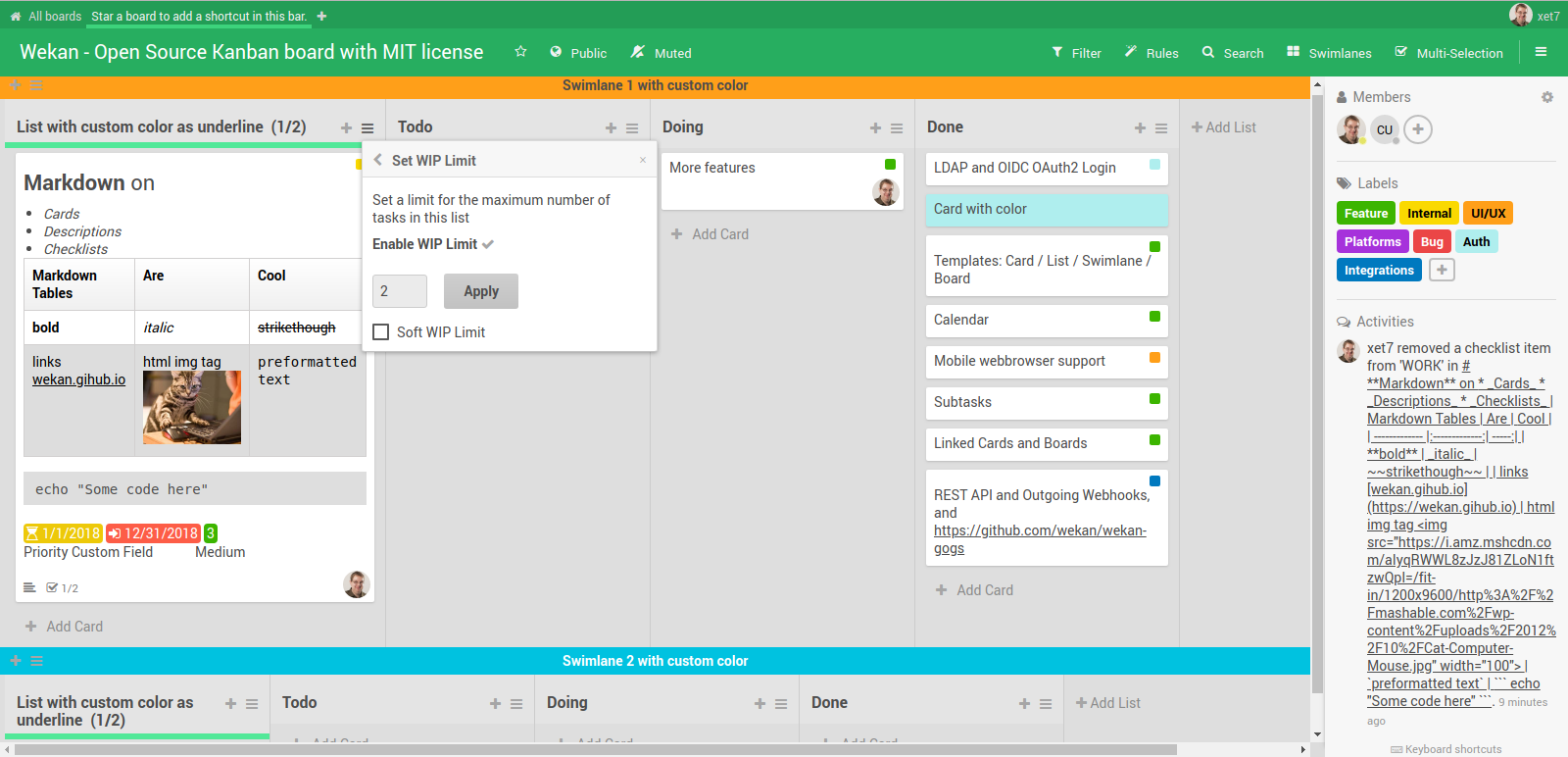 ---
Security
WeKan is NOT vulnerable to log4j
CVE Hall of Fame
Often used
Feature Requests and Bugs
Commercial Support
ChangeLog
Docs
Scaling
API
Translations
Roadmap (read-only)
Transparency
Blog
Accessibility Survey 2021-12-07
Saavutettavuus kysely 7.12.2021
Sometimes used
IRC
GitHub Discussions
Gitter
Twitter
Reddit
Facebook
Discord
Instagram
Vanila Community
Vanila RocketChat
---
Client: Javascript enabled mobile or desktop webbrowser or App
---
Download Server: WeKan ®

v6.72

, Meteor 2.10.0, Node.js 14.21.2, MongoDB 5.0.14
Standalone WeKan ®
Docker/VM
VM +integrated IdM (UCS)
Kubernetes (Helm Chart)
Upgrading Docker
Docker amd64
Cloudron
Oracle Identity Cloud
OpenShift
PikaPods
SaaS
ToroDB PostgreSQL
Snap
Snap x64 automatic updates
Many Snaps on LXC
Ubuntu Core
Snap Chromebook
CentOS 7 and RHEL7 and newer
Test Snap on WSL2 Insiders
Vultr
Without container/VM
Bash/Service x64/arm64/s390x/ppc64el, OpenVZ/OVH/Kimsufi
Offline Windows LAN
Mac
FreeBSD
SmartOS
Qnap NAS
Uberspace
Server for Android
---
Required: At least Daily Backups of WeKan ® database with mongodump. Bugs, updates, users deleting list or card, harddrive full, harddrive crash etc can eat your data. There is no undo yet. Only newest WeKan ® is supported. Please report all new bugs immediately. Sandstorm WeKan ® is rarely affected by any Standalone WeKan ® security issues. If you use Standalone WeKan ® on public Internet, it's better use Snap x64 automatic updates and restore from backup when needed, than to leave old vulnerable manually updated WeKan ® running.
---
FOSS dev servers donated by
---
Some FOSS dev grants by
---
Summer 2022 greetings to Maarit for helping us acquire replacement gear

---
Featured in
---